Roll On Roll Off Shipping of Break Bulk Cargo
Depth Logistics is a world leader and highly innovative in shipping static cargo efficiently via Rolltrailers which are also known as MAFI trailers. We actually prefer this shipment method rather than containerisation or shipment via conventional tweendecker vessels. Costs overall are often cheaper for many types of cargo.
We routinely ship mining equipment, construction equipment, agricultural equipment, locomotives, boats, industrial plants, machinery and energy generation equipment via Rolltrailers.
Rolltrailers are towed on and off RoRo vessels by specialised tractors, are stowed below deck and therefore well protected from the weather at sea.
The key benefits of Rolltrailers include:
Safer cargo handling with minimal lifting of cargo for loading and unloading compared to conventional tweendecker ships where cargo is lifted 20m+ high
Stowage is below deck
Cargo handling is less expensive than heavy lift vessels
They are suitable for all types of static or break bulk cargo
Out of gauge cargo is easily handled. You are not limited to the internal dimensions of a container.
If the cargo is wider or longer than the rolltrailer, as long as it is stable, can be securely lashed and will fit through the ship's hatches there is no problem.
Vessel loading and discharge operations are faster than conventional vessels
For locomotives and rail cars some rolltrailers have in-built rails so they can be loaded easily without lifting and stowed safely
Less expensive and time consuming dismantling/reassembly of cargo compared to containerisation
MAFI's or Rolltrailers are part of the ship's equipment on modern roll on roll off vessels. They come in varying lengths, widths and weight capacities. They range in length from 12m to 24.4m and carry cargo weighing up to 160t. They can even be combined into a single module to transport very long or even heavier cargo than can otherwise be handled on a single Rolltrailer. Please contact us to discuss whether any of your cargo can be converted to Rolltrailer cargo as it is the most efficient way to transport any type of heavy or out of gauge cargo.
We are happy to provide you with comparative pricing and collaborate on the most efficient way to transport your cargo and explore whether it is feasible to convert to RoRo.
Types of Rolltrailers
20' Rolltrailer
Rolltrailer length: 6.10 m
Rolltrailer width: 2.50 m
Rolltrailer height: 0.60 m
Max. cargo weight: 25 t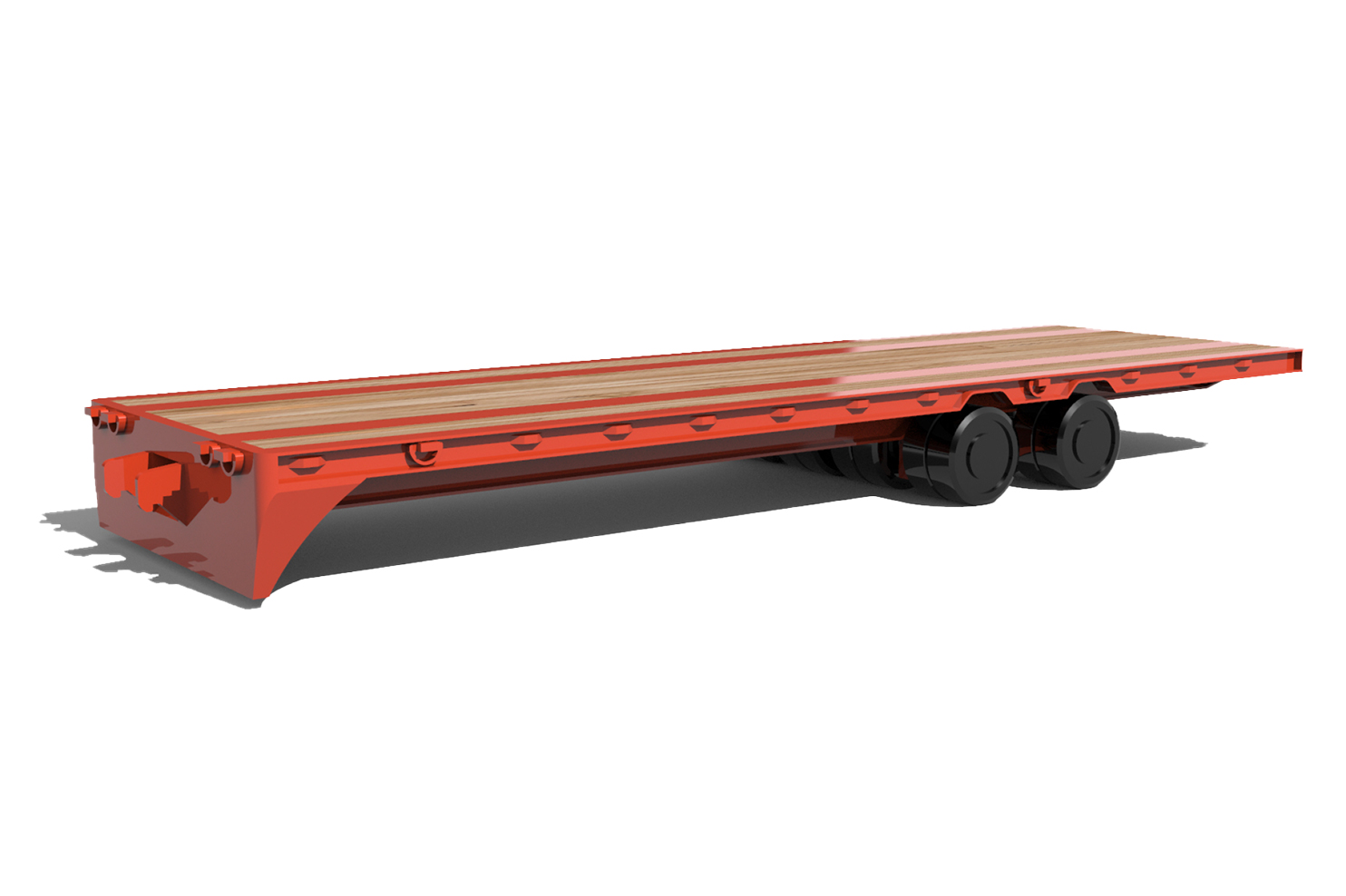 30' Rolltrailer
Rolltrailer length: 9.20 m
Rolltrailer width: 2.80 m
Rolltrailer height: 0.90 m
Max. cargo weight: 160 t
32' Superlow Rolltrailer
Rolltrailer length: 9.80 m
Rolltrailer width: 2.80 m
Rolltrailer height: 0.47 m
Max. cargo weight: 75 t
40' Rolltrailer
Rolltrailer length: 12.20 m
Rolltrailer width: 2.60 m
Rolltrailer height: 0.70 - 0.80 m (100 t) 0.84 m (120 t) Max. cargo weight: 100 t and 120 t
For wider cargo, we can use a Double-wide rolltrailer concept where two 40' rolltrailers are placed side by side, and joined together by a coupling system
62' Heavy-duty rolltrailer
Rolltrailer length: 18.90 m
Rolltrailer width: 2.85 m
Rolltrailer height: 1.05 m Max. cargo weight: 140 t
* With rails
62', 72' and 80' rolltrailer
Rolltrailer length: 18.90 m - 22.00 m - 24.40 m
Rolltrailer width: 2.55 m - 2.80 m
Rolltrailer height: 0.85 m - 0.86m
Max. cargo weight: 90 t- 100 t
* Available with rails (1435 mm and 1067 mm gauge)
Preparing Static & Break Bulk Cargo for RoRo Shipping
Crated cargo <10t 
(1) Cargo inside a crate/box must be adequately secured to prevent any movement during cargo operation and sea transportation (see fig 1). 
(2) Strong and solid crate, allowing lashings to be applied as top over lashings (see fig 1). Subject to the size and shape of the crate if this securing method can be used.
Where applicable, the wooden packing material and dunnage used for cargo carriage, must be treated and marked in accordance with the International Standard for Phytosanitary Measures (ISPM).
All contents inside the crate/box must be accounted for, and a packing list must be available. Upon request, drawings/illustrations/explanations must be presented to our operations team.
The lashing points capacity must be capable to withstand forces of at least equal to the total weight of the cargo on each side (2 sides – port and starboard) and must be accessible. 
Additional requirements for crated >10t 
(3) Direct access to lashing points on the goods, allowing sufficient securing (See fig 2). 
(4) Cargo with no direct access must be properly fixed to outer steel beams with external lashing points (See fig 3). Subject to the approval of the carrier.
(5) A Cargo stowage and Securing Declaration may be required.
All crates above with a mass over 49 tonnes must be approved by the carrier's operation team.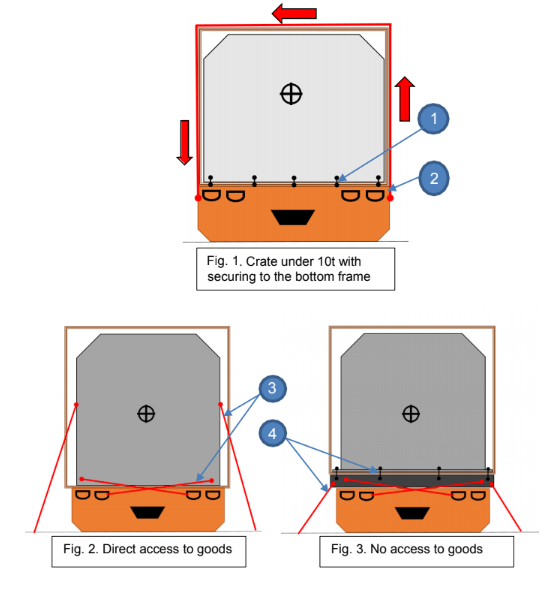 Should additional lashing and securing of cargo on MAFI Trailers be required this will be for the shippers account unless otherwise agreed.
Unstable cargoes, such as tall and narrow units should be presented lying down. If this is not possible then Depth RoRo must be made aware at the time of quoting and booking.
Cargo missing fuel and oil caps can be rejected by carriers.
All items in or on the cargo should be properly secured so they cannot move and potentially cause damage during transportation.
Marking, labelling & design of crates 
To ensure that the cargo complies with international standards and regulations it is important that the cargo is labelled. Labels and marks must be waterproof and secured in a manner that they cannot be blown off. All information on the cargo is important to ensure safe transportation. 
(1) lashing, sling, and lifting points cleared marked on cargo greater than 1t
(2) Inspection hatches in crates
(3) Port of load, port of destination
(4) Length, width, height and weight on each breakbulk piece
(5) Center of gravity on all four sides of cargo greater than 1t
(6) Safe stacking loads/layer on cargo greater than 1t
(7) Marking if fragile; keep dry; or side up, if applicable
(8) Marking "No forklift" if not able to be lifted with forklift
(9) Marking of ISPM treatment, if applicable 
Any Other relevant handling/securing information.
We strongly recommend that you take out marine insurance on your cargo in the event of any mishap during transportation. We can quote you on this aspect on request if you can provide us with the value of the cargo. It is important to note that most underwriters require a condition report prior to shipping in the unfortunate event of a claim.
If these cargo preparation guidelines are not followed then short shipment and extra expenses can be incurred to your account.