Roll On Roll Off Shipping of Boats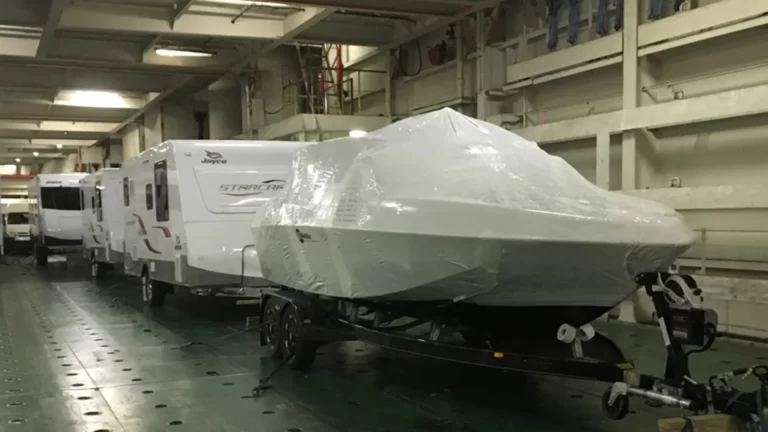 RoRo shipping of boats is easy and cost effective and the only real limitation is whether the height enables loading through the ship's hatch.
For trailer boats and trailer sailers, these can be effortlessly towed on and off the vessel and stowed securely below deck.
For boats that are too big for trailers, these can be loaded onto rolltrailers but may require a cradle or blocking to facilitate safe lashing or stowage. See our "Static and Break Bulk Cargo" section of this website to learn more about this roll on roll off shipping method.
For other very large boats, launches, barges or ships that are too high for a RoRo ship's hatch then we can handle these via heavy lift or semi-submersible vessels.
Depth RoRo can handle any size vessel you need to ship internationally.
Preparing Boats for RoRo Shipping
For trailer boats and trailer sailers, the trailers must be fitted with one of the following types of hitch/connectors to facilitate loading and discharge operations. Depth RoRo needs to be advised in advance what hitch the trailer is fitted with.

Trailer jockey wheels and legs must be fitted and in good condition. They must be capable of withstanding the rigors of ocean transportation. The safe operating weight of the trailer must not be exceeded and boats must be securely lashed to their trailer.
For larger boats being shipped on a rolltrailer, you may be required to supply a cradle so they can be safely lashed and stowed. See our Rolltrailer webpage for more information of preparing a boat for this method of shipping.
Cargo missing fuel and oil caps can be rejected by carriers.
All items in or on the cargo should be properly secured so they cannot move and potentially cause damage during transportation.
No personal effects or inner cargo are allowed in any boat or trailer by most carriers. Only items defined as standard equipment of the boat such as a toolbox, disassembled spares/accessories, manuals are generally allowed. Depth RoRo can approach carriers at the time of booking with a special request however detailed packing lists and proper declaration to Customs and notations on the bill of lading will be required if the carrier accepts this.
The following items are not allowed to be stowed inside: weapons, ammunition, drugs, medicine, perishable goods such as food, spare fuel or oil including empty containers, spare lithium batteries, flammable and hazardous substances in aerosol cans or gas bottles.
Some countries have stringent Quarantine Regulations so vehicles must be delivered for shipment in a very clean condition. These regulations can include re-export of your cargo at your expense. Brown Marmorated Stink Bug is another significant quarantine risk that must be dealt with prior to shipment of RoRo cargo during the season. Depth RoRo can assist with pre-shipment cleanliness inspections (if required), washing and fumigation of cargo in most main ports however extra charges for these services will apply.
Freight is calculated on the overall dimensions of the cargo. To keep your freight costs to a minimum, it is important to reduce the dimensions where possible. As long as it doesn't impact the safe and reliable operation of the cargo, parts or accessories such as radio aerials, beacon lights, exhaust stacks, or any other protrusions should be removed. This is a non exhaustive list and are examples of what you need to consider when presenting your cargo for shipment.
We strongly recommend that you take out marine insurance on your cargo in the event of any mishap during transportation. We can quote you on this aspect on request if you can provide us with the value of the cargo. It is important to note that most underwriters require a condition report prior to shipping in the unfortunate event of a claim.
If these cargo preparation guidelines are not followed then short shipment and extra expenses can be incurred to your account.